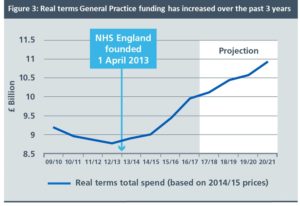 Hidden away in the latest NHS England publication[1], on page 19, is this graph (above). It is not good news for general practice.
At first glance it would seem to present a positive picture. Spending on general practice has gone up, and is planned to continue to go up until 2021. So what is the problem?
In the General Practice Forward View, published in April 2016, an additional recurrent investment of £2.4bn was promised to general practice. The parlous state of general practice was at last recognised, and (or so it seemed) that recognition was backed with real cash.
But what this graph shows is the additional investment of £2.4bn did not begin on the date of the publication of the paper. It begins around 2013, some three years earlier. A specific highlight is given to the formation of NHS England, to correlate this date with the turnaround in the funding fortunes of general practice.
The implication of this graph is that those awaiting £2.4bn of investment should really only expect less than £1bn between now and 2020/21. The graph also indicates the rate of funding increase will slow compared to the last two years. Worse, £500m of the extra money still to come has been promised for extended access, and at present most of that funding is being awarded via private tender, and not to local practices.
This should not be about headlines or political statements. It should be about properly funding a critical part of our NHS. It is no wonder that GP partners are at breaking point. According to one recent survey more than 90% of GPs have either left, have considered leaving, or have reduced their hours to be able to cope[2]. The additional funding is not a reward for general practice. It is what is necessary to keep it functioning and operating effectively at the front line of the NHS. This graph shows that not only is the funding required not going to materialise, but that the system is also going to pretend that it is.
[1] Next Steps on the NHS Five Year Forward View, March 2017
[2] http://www.weloveourgps.co.uk/
---
Subscribe Today
Subscribe today to receive our weekly newsletter giving details of each episode of the General Practice Podcast as it is published plus our weekly blog and useful links for anyone interested in general practice innovation.  You'll also receive a free copy of "Ten Steps for Establishing a Powerful Voice for General Practice". Simply enter your email address and tick the box.